Celebrating 50 years at the Wright Institute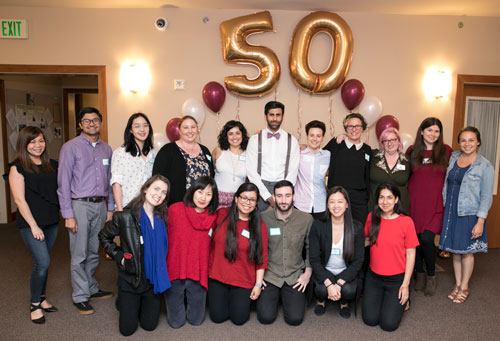 To commemorate its 50th anniversary, the Wright Institute held a celebration at the Clinical Psychology Program campus on Saturday, May 11. Over 300 guests including alumni, faculty, and staff came together for food, live music, and historical displays covering different branches of the Wright Institute's history and identity. Guests had the opportunity to reconnect with classmates and colleagues while viewing photos of Wright Institute founders and faculty over the years, reading newsletters from throughout the Wright Institute's history, learning about both programs, and snapping silly pictures with friends in the photo booth.
"I'm moved by the fact that so many wonderful alumni and faculty and staff joined us in the celebration," said Gilbert Newman, PhD, the Vice President for Academic Affairs and 1996 graduate. "The Wright Institute is truly unique and we have a lot to be proud of in our history and in the present. We are fortunate to have such a warm and vibrant community and our staff did a fantastic job of organizing and hosting this event and welcoming everyone. I hope everybody had a great time!"
"I was excited to reconnect both with my classmates from the Wright Institute and with alumni of the Counseling Psychology program," said Milena Esherick, PsyD, Director of the Counseling Psychology Program. "Our identity and history has been shaped by so many tremendous people, and I was delighted to be able to see so many of them in one place. What a fantastic event!"
The Wright Institute was founded in 1968 by Dr. Nevitt Sanford. A pioneer in the integration of social issues and clinical psychology, Sanford believed strongly in an action model of research and education. He conceptualized the school as a place where cutting-edge approaches to persistent social and clinical problems could be addressed. The Clinical Psychology Program has over 2,000 alumni, and 70 more will graduate this fall. The Counseling Psychology Program, founded in 2006, has about 400 alumni, with another 65 graduating in the fall.


Learn more about the Wright Institute's Master of Counseling Psychology program.
Learn more about the Wright Institute's Doctor of Clinical Psychology (Psy.D.) program.