Past, Present, and Future Counseling Psychology Students Mingle at Alumni Forum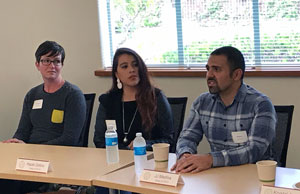 On Tuesday, July 7, seven distinguished alumni returned to the Wright Institute Counseling Psychology Program campus for the Summer 2019 Alumni Forum. Jason Shepherd (Class of 2009), Caiti Crum (2010), Ian Vianu (2014), Beth Greivel (2015), Hazel Zetino (2016), JJ Medina (2017), and Krystal Jacobs (2017) served as panelists, while Field Placement Director Stuart Lee moderated the discussion.
Each of the seven alumni imparted valuable advice for the dozens of current and incoming students in attendance. The graduates discussed the licensure process, their time at practicum, the intricacies of the counseling profession, some of their professional experiences since graduating, and issues of identity in therapy.
Some of the advice that the alumni gave could be applied to any stage in a career in counseling. "Therapy is about more than just talking," said Shepherd. "When working with trauma, your countertransference and body language are vital."
Other messages were more specific. "Right after graduation is the best time in life to add professional skills to your toolbox," Jacobs said. "Take the time to complete trainings and continuing education courses. Don't feel like you need to rush anything."
"You need friends who are therapists, but you especially need friends who do something completely different," Vianu said to laughs from the audience. "They help provide some necessary perspective."
The panel closed with a discussion of identity, during which each of the panelists shared their own perspectives on how their intersecting identities have shaped their work as therapists. "Some aspects of my identity are clearly visible, but some are not," said Medina. "I try to bring different aspects of my identity into conversations with clients depending on what they're working through and what I think will benefit them."
"The clients I work with are mostly nonwhite. By recognizing the fact that my clients don't look like me, we are both able to be more comfortable," said Crum. "Learning to be comfortable with all aspects of identity is one of the most important things I learned at the Wright Institute."
"It's exciting for me to be able to discuss aspects of identity with clients, because I've worked for so long discussing my own identity," Medina added.
After answering questions for the entire group of attendees, the alumni each mingled with students to continue to discuss career paths and lend advice. "I tell students to not lose sight of the quality of the hours they work," said Jacobs. "Getting to the number you need for licensure is important, but don't let the pursuit of that goal change how you're spending your time."
Certain pieces of advice resonated with students who will begin classes in August.
"Don't worry about having the feeling that you're not doing something right or that everyone around you is doing it better," said Greivel. "That feeling means that you care."
"I haven't started yet, but I am already concerned about feeling like I don't know as much as my peers," said an incoming student. "Hearing that really reassured me."
Much like some of the incoming students, the alumni acknowledged that they are still growing as professionals and clinicians. While each of the seven graduates were giving advice to the students, they were also guiding each other.
"Some jobs feel like they can be done with your eyes closed," said Greivel. "I could never do this job with my eyes closed, and I'm grateful for that."


Learn more about the Wright Institute's Master of Counseling Psychology program.
Learn more about the Wright Institute's Doctor of Clinical Psychology (Psy.D.) program.