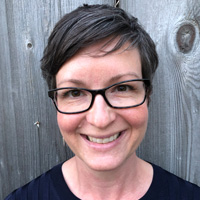 Beth Greivel, MEd, MA, LMFT, LPCC
Part-Time Faculty
egreivel@wi.edu
Pronouns: she/her
BA English Literature - University of Colorado-Boulder, 1997
MEd Curriculum and Instruction - University of Denver, 1999
MA Counseling Psychology - The Wright Institute, 2015
Professor Beth Greivel is a Licensed Marriage and Family Therapist and Licensed Professional Clinical Counselor with experience working with individual adults, individual teenagers, and adult intimate partners. Professor Greivel's clinical background includes serving families in reunification after they have experienced trauma, working with first-generation immigrant college-bound teenagers, and as a staff member at low-fee clinics devoted to making long-term therapy affordable for all populations and social identities. Professor Greivel has post-graduate training in long-term psychodynamic psychotherapy, Emotionally Focused Therapy for Couples, and Accelerated Experiential Dynamic Therapy for Couples. She currently has a private practice in Oakland where she works from a social justice and object relations lens.
Professor Greivel is a persistent advocate for LGBTQ+ communities, and in 2015 led a successful campaign for CAMFT to condemn conversion therapy. She has served on the boards of the LGBT National Help Center, and Gaylesta | The LGBTQ Psychotherapy Association. Professor Greivel has also served as the Co-Chair of the Education Committee at The Psychotherapy Institute, and enjoys learning different psychotherapeutic techniques and theories.
Prior to her career as a psychotherapist, Professor Greivel worked in education, legal, and technology settings. Professor Greivel appreciates that people are drawn to the counseling field at any age and with any background, and loves working with varied life experiences in the classroom.
Professor Greivel spends her spare (ha!) time with her wife, dog, cat, and chickens. She enjoys restoring her old house, gardening, and watching embarrassing television.
Professional Memberships
The Psychotherapy Institute
California Association of Marriage and Family Therapists (CAMFT)
Open Minds
Gaylesta | The Psychotherapist Association for Gender & Sexual Diversity