Alumni Spotlight: Jeri Mares '15, Mentoring Program Coordinator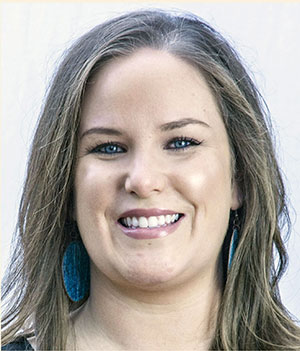 "Humans have an innate drive towards attachment. In many ways, attachment is like survival," says Jeri Mares about her work with couples, which she calls her most impactful. Never one to cut corners, she cites research which supports that a healthy, loving, high-functioning relationship benefits several aspects of health. "But of course we know that to be anecdotally true as well," she adds.
Yet it's clear that Jeri's passion for her work and connections towards her clients is greater than the expertise and clinical acumen she clearly possesses. "Helping couples achieve more lasting and enduring satisfaction in their relationships means that we're making little ripples in the overall health of people themselves," she explains.
After graduating from the Wright Institute Counseling Psychology Program in 2015, Jeri Mares took some well-earned time off to relax. "I graduated from the Wright Institute with close to 1,000 hours from my traineeship, so I was already a third of the way done once I entered my internship phase." After that, she started with an internship (now called associateship) at a non-profit called Anthropos Counseling Center in Livermore. Jeri started practicing divorce mediation in the summer of 2017, and got her MFT license one summer later.
When asked what prompted her to complete her MFT licensure so quickly, Jeri gives reasons that outline her passion for both her clients and her career aspirations. "I love the work and wanted to be able to book as many clients each week as I have the bandwidth for. But, to be honest, another one of the biggest motivations was the financial freedom that comes with being licensed." That freedom has allowed her to establish her own private practice, a small clinical and mediation practice in Livermore.
By now, Jeri's peers during her time at the Wright Institute have graduated. But she is still connected to the Wright community, and most current students still know her as the Mentoring Program Coordinator for the Counseling Psychology Program.
"My initial goal with the mentoring program was to provide support to the Wright Institute community," she explains. She has remained a vital part of this effort, and the mentoring program has grown beyond what she initially envisioned. Having mentored some first-year students immediately after graduating in 2015, Jeri stepped into her current role in the 2016-2017 school year. She now serves as a mentor to mentors, guiding second-year students as they help first-year students navigate the challenges of graduate school.
"As I gather more experience, I want to be someone who supports others' professional development," says Jeri. The seven students in the mentoring program have benefited greatly from her stewardship.
"Jeri has been a phenomenal support to each of us mentors" second-year student and mentor Jennifer Rillamas says. "She integrates professional development topics into our mentor meetings and makes herself regularly available for consultation." Jeri meets with the student mentors monthly in a collaborative group discussion, where they offer each other support and brainstorm how best to serve the needs of the first-year students.
Longer than her relationship with the Wright Institute or its mentor community is Jeri's relationship with the American Foundation for Suicide Prevention (AFSP). After beginning to volunteer with the organization in 2007, Jeri became a Survivor Initiatives Coordinator, engaging in fundraising, organizing international conferences, and facilitating grief support groups. "Those are open forums where survivors of suicide loss discuss their feelings and emotions, and how to battle the stigmas associated with mental illness and suicidality."
There are heavy elements of sadness to her work with AFSP, as every person in one of her grief support groups is a reminder that suicide remains a real, important issue that heavily impacts countless survivors. Stigmas and a tendency for survivors to withdraw after a suicide loss occurs make the risk of isolation even more acute for survivors. Yet over the past eleven years, Jeri has seen attendance at fundraising events increase tenfold as those who have suffered suicide losses continue to receive support from their communities.
Nine months ago, Jeri forged her greatest connection yet with the birth of her daughter, Olivia. While being a new mother is challenging, the learning experience is something that Jeri cherishes. "More so than any program, any book, or any continuing education course that you could possibly enroll in, I think children are the ultimate teachers of wisdom. I am constantly being humbled with her. I would say it is my biggest and greatest achievement." Jeri took some time off from clinical work and mediation for maternity leave, but has since returned to the professional landscape with her clinical and mediation practice.
There are still a few goals that Jeri Mares has in mind. "The next step for me is wrapping up my EFT training and pursuing certification," she says. And, some time in 2019 or beyond, Jeri has her sights set on teaching.
"I don't know what exactly that will look like or where that will be, but that's one of the next big-ticket items on the list," says the future professor. "I'd definitely want to do counseling psychology, maybe something with theory or couples. I'd even consider teaching undergrad."
Could it perhaps be at the Wright Institute?
"I do love the Common Therapeutic Factors course," Jeri admits. "It sets you up to do relational work in any environment." While she won't be lining up to teach the course in the spring of 2019, the future is not out of the question.
"I think I will always, in some way, be connected to the Wright Institute."
Learn more about the Wright Institute's Doctor of Clinical Psychology (Psy.D.) program.
Learn more about the Wright Institute's Master of Counseling Psychology program.