Get to know Raymond Buscemi, PsyD - Core Faculty, Counseling Psychology Program
See Raymond's professional biography.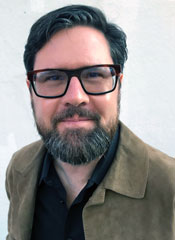 Shayna Quilty (SQ): Welcome to the Core Faculty, Raymond! You graduated from the Doctorate in Clinical Psychology Program at the Wright Institute - What drew you to the program as a prospective student?
Raymond Buscemi (RB): Thank you! I first heard about the Wright Institute while I was studying Psychology as an undergraduate at New College of California. Several of my professors there were Wright Institute graduates, including one who I particularly looked up to. I admired my professors who graduated from the Wright Institute because they engaged in deep analytic thought and displayed political and gender consciousness. They clearly articulated ideas around masculinities and femiphobia, which had become areas of interest for me. I began to see how my professors were able to position themselves as agents of change through higher education. However, at the time, the Wright only had a doctoral program and I wasn't sure I wanted to go that route.
One of the deciding factors for me in pursuing a graduate degree in psychology was my interest in working with with male perpetrators of domestic violence. There was a clinical internship offered by Men Overcoming Violence (MOVE) and it was only available for graduate students in psychology - so I enrolled in the Master's in Psychology Program at New College. During my Master's program, my interests continued to take shape and I realized I needed more than a Master's to do what I wanted to do. I was especially interested in psychological assessment, especially the Rorschach Inkblot, and I was interested in research as well as teaching.
I knew that the Wright Institute was the only place I wanted to go, and it was the only place I applied to. At that point I had been training at MOVE for a few years, and a few of my peers also applied to the Wright and were accepted. I took a very circuitous path, but it worked out!
SQ: I know you went on to do some interesting work after you graduated. Can you share a bit about that?
RB: After graduating, my internship was at The James Goodrich Whitney Clinic at the C.G. Jung Institute of San Francisco. This allowed me to build up a private practice and to transfer my caseload into a private practice internship, so that was the genesis of my private practice which remains the central facet of my work.
Since it was an unpaid internship at the time I looked for work and came across a listing for a Research Assistant position at California Pacific Medical Center Research Institute. I ended up assisting on a research study of distant healing that was the beginning of the formation of the Mind-Body Medicine Research Group. This distant healing study was focused on the idea that you could construct a research protocol that could measure in some way the effects of intention that were being transmitted from a selected group of healers toward assigned recipients even though they were miles, if not thousands of miles, apart. We tried to construct a protocol that would allow us to see whether there was anything there to measure. And what we found suggested that there might be a correlation, and we also found the difficulty of applying Western concepts of research to non-Western modalities of healing.
After a few years I transferred to the Addiction Pharmacology Research Laboratory, also affiliated with CPMC, where I worked as Research Therapist on several projects related to addiction treatment research. This became my primary area of interest for about eight years. It was through this work that I trained in Motivational Interviewing as well as other treatment modalities.
SQ: How did you find your way back to the Wright Institute as a member of the Counseling Psychology Program faculty?
RB: As I pursued research and direct client work with my private practice, I knew I also wanted to teach. My first teaching experience was in fulfillment of my thesis project for my B.A. at New College. Dr. Milly Henry, the Dean, encouraged me to develop a syllabus on masculinities and manhood and then offered me the chance to teach it as an elective. I ended up teaching a few other classes after graduating and then taught for some time at California Institute of Integral Studies in the Psy.D. Program. Several years ago I heard an ad on NPR that the Wright Institute had started the Master's program, so I looked on the website and saw names I recognized from my own program, including [the Program Director,] Milena. I reached out to her, but we paused for a few years while I pursued other opportunities. I followed up with her again a couple years ago and that time the idea of teaching had traction and I was invited on board.
SQ: Can you tell me about someone or something that motivated you to get involved with mental health work?
RB: My first experience with a therapist was when I was about 18. Growing up, I always knew that I was gay, but I hadn't shared this with my parents. I graduated high school a year early and went off to college a few hours away from home, which was far enough that I felt free of some of the limitations I felt at home. I also had a burgeoning political identity that led me to come out in a very public way by sending a letter to the editor of the college newspaper, describing how difficult it was being gay in that environment and how there were no resources for lesbian or gay students. I was the target of a lot of harsh blowback from my fellow students, including someone sending a letter to my parents outing me. To my parents' credit, I believe what upset them the most was that I hadn't talked to them about this aspect of my identity.
My mother insisted that we go see a therapist, so we went to see an MFT intern named Mark at a pop-up clinic at the YMCA. He asked what brought us there, and my mother said that the primary reason we were there was because "Raymond is gay." The therapist asked me whether I would agree that that was a problem. I told him that I had some questions about dating and things like that, but I knew that I was gay and I was fine with that.
The therapist said to my parents "I'm so glad you're here. There is a problem - your son is gay and you're having trouble accepting that. I think you could use therapy, but I don't think that Raymond needs to be here unless there's something that directly involves him."
Later when I heard my psychology professors talk about psychologists as agents of change, I thought of Mark. It's still one of the best interventions I've ever heard in my life.
SQ: What class are you most excited to teach? Why?
RB: I enjoy teaching each class and each cohort! Each class excites me in a different way and constellates something distinct inside me. The primary question I'm holding in all of my classes this year is: How do we fulfill all of the ethical, clinical, and legal mandates and expectations of our profession in the context of social justice, especially in the moments when legal and ethical mandates feel as though they conflict with our understanding of social justice?
SQ: I know that working at the Wright is only one of many things that you do. How else do you spend your time?
RB: My work takes up a lot of time and energy because it's expanded in the last few years to include Analytic Training at the C.J. Jung Institute. I have a private practice in San Francisco where I spend about 20 hours per week, I teach regularly in the weekend format of the Counseling Psychology program, and I participate in faculty development and student advising here at the Wright Institute.
I have one toe in the political waters; I try to always have one or two campaigns I can really devote time to. I enjoy services and fellowship at my parish church (I'm Episcopalian). I enjoy spending a lot of time with friends. My husband and I are content to be homebodies most nights and we love murder mysteries. We're also regulars at the Berkeley Rep.
SQ: If you could give one piece of advice to the students in the Counseling program, what would it be?
RB: I highly recommend that students think about how and where they access their social and cultural energy and nutrition, whether that's through theater, movies, dance, music, or other art forms. Culture sustains us and can oftentimes move us out of the mindset we inhabit in our work as therapists.
Learn more about the Wright Institute's Doctor of Clinical Psychology (Psy.D.) program.
Learn more about the Wright Institute's Master of Counseling Psychology program.