Student Spotlight: Elizabeth Montes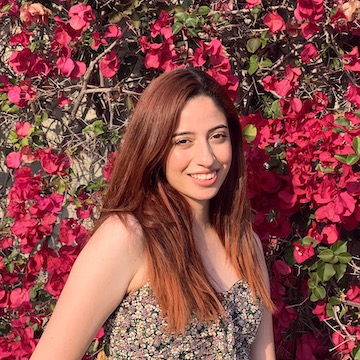 "I love studying body language, whether it's online or in person," Elizabeth Montes says about returning to the physical classroom after spending her first year in the Wright Institute Counseling Psychology Program online.
As a result of the switch to online classes at the start of the COVID-19 pandemic, Montes is only now getting accustomed to in-person classes. After seeing only faces on a screen for a year, she is excited to get to know her classmates and instructors in new ways. "Different personalities come out when you're sitting in a room full of people. People tend to be more relaxed and show up more authentically," she says.
Montes grew up in a rural community in Northern California, largely populated by migrant workers. She attended Spanish-speaking schools until the second grade, and did not learn English until she moved to nearby Esparto, California, at the age of seven. A first-generation college student,Montes graduated from the University of California, Berkeley in 2018 with a degree in Integrative Biology. She is now the youngest member of her cohort in the weekend format of the Counseling Psychology Program.
While she was a student at UC Berkeley, Montes spent time at a program called the Volunteer Health Interpreters Organization (VHIO), where she interpreted for Spanish-only speakers seeking medical treatment. Her involvement in that program helped ease some of the culture shock of coming to UC Berkeley, as well as ignited her passion for advocacy on a systemic level.
"Growing up, I thought I wanted to be a doctor or medical professional. I wanted to help people like me," says Montes, who suffered from epilepsy when she was young. Even as a child, she realized that neurological disorders and mental illnesses were much more stigmatized than physical diseases. "While I was studying biology, I was consistently struck by a paradox in the medical field," says Montes, "which is that the majority of care is a response to symptoms. So little funding and research is allocated to preventative care in comparison."
As a biology major, Montes began taking psychology classes out of interest, but didn't realize until her senior year that psychology could be her main focus. Shortly before she graduated, Montes took a series of developmental psychology pathology classes, and got the chance to speak to an applied behavior analysis (ABA) therapist. "I have a brother who I have always suspected was on the autism spectrum, and the possibility of being a behavior technician appealed to me on both an emotional and an intellectual level," she says.
Although she was worried about how she'd do as an ABA therapist with no prior experience, Montes found she had a natural ability to connect with clients. Some of her supervisors began encouraging her to consider applying to grad school to become a Board-Certified Behavior Analyst (BCBA). "I was beginning to consider it, since I was interested in expanding my ability to impact change on a systemic scale." she says. While she was unsure about pursuing a BCBA path, Montes did like the idea of attending graduate school. She enrolled in the Wright Institute Counseling Psychology Program in 2020, when all classes were being held online.
Montes was interested in switching career paths because of the overwhelming need for culturally-informed mental health services, particularly in the Transitional Age Youth (TAY) population. "Therapy during this transitional period is so important," Montes believes. "Early intervention is so imperative because it can dramatically change the trajectory of a person's life, especially for people with Bipolar Disorder and Schizophrenia whose symptoms often begin to emerge during this time."
"I hold a particular soft spot for Gen Z since they face a unique set of challenges growing up in the social media/technology age," she says. Montes' instincts are backed up by research from the American Psychological Association (APA). A 2019 APA survey found that members of Generation Z are more likely to report mental health concerns.
During her first year in the program, Montes was selected as a DEI student fellow, a position within the Counseling Psychology Program Office of Diversity, Equity, and Inclusion (DEI). As a first-year DEI fellow, Montes provided mentoring to her fellow students through informal drop-in sessions. "That was a perfect way for me to integrate into the Wright Institute community," she says. "When I can meet with fellow students one on one, I'm able to talk with them in a way that faculty members can't. I can relate to them and what they're going through."
"I treasure that informal space to connect with my fellow students because honesty comes when there's no pressure. I'm just another student - there's no pressure to be perfect in that space," says Montes, who sees the parallels between her informal drop-ins and in-person class sessions. "There's space to make mistakes in an in-person class because we have the opportunity to elongate discussions and connect during breaks to clear up any misunderstandings. On Zoom, it felt more performative. The platform forced us to be very efficient, precise, and concise with the thoughts we shared. I felt the pressure to be perfect every time I spoke up."
For the 2021-22 academic year, the DEI Office welcomed two new student fellows, Lena Murphy and M. Maynard. However, Montes is staying with the DEI Office as DEI Office Assistant, a position that was created for her. As Office Assistant, Montes continues to support DEI Office projects, and serves as a liaison between the DEI Office and the second-year student mentors.
As the youngest member of her cohort, Montes describes how this shapes her perspective that may be different from many of her peers. "I feel that my generation can be much more blunt than previous generations. We tend to have the ability to critique broken structures and systems in a more direct way," she says. "Sometimes politeness is not effective when you're trying to combat systems of oppression."
Montes' age and worldview are significant reasons why she's enjoying her practicum experience at the College of Alameda so much. "I'm getting to work with transitional age youth, many of whom are BIPOC, first generation students, and low-income," says Montes of her clients at College of Alameda. "I feel like I can easily relate to their situations, since I share similar experiences and similar identities with many of them." She feels that being able to relate to her clients helps their growth. "That's how I can create the greatest impact - by striving to educate myself to understand as much as possible about the populations I serve," she says.
It isn't just the client base. Montes is thrilled by the advantages that in-person counseling presents. "The theoretical sessions are helpful to build a foundation of how to conduct a session, but there's no replicating the real thing," she says, comparing her work in practicum to the mock sessions that students participate in as part of their first-year curriculum.
After she graduates from the Counseling Psychology Program next year, Montes wants to continue working with college-age students. However, she doesn't think she's done with higher education. "I've always considered pursuing a PhD. I'm super interested in conducting research, but I want to take the time to immerse myself in the community," she says. "I want to gain insight on their needs, and understand how the current systems function to inform the work I'll do in the future. That made a Master's Program more desirable to me right now, but if I find a specific area I am extremely passionate about I could see myself diving into a PhD program to support that work."
In the meantime, Elizabeth Montes is focused on helping where she can, from her sessions with clients to her conversations with fellow students. "I have a small, but important, impact in those spaces," she says. "I don't have control over all the changes that need to be made in the world, but I can focus on the changes that I can make in my corner of the world."


Click here to learn more about the Wright Institute's Master of Counseling Psychology program.
Click here to learn more about the Wright Institute's Doctor of Clinical Psychology (PsyD) program.