The Wright Institute Berkeley Cognitive Behavioral Therapy Clinic
The Berkeley Cognitive Behavioral Therapy Clinic provides individual and group therapy using well-researched methods that have been shown to be effective for a variety of challenges. We offer sliding scale, low fee individual and group therapy. Our clinic is a training program of The Wright Institute and is staffed by student clinicians pursuing their clinical doctoral degree. Clinicians receive training and supervision from licensed psychologists. Our mission is to offer affordable and effective treatments to underserved members of our diverse community.
Clinicians work with clients on issues such as:
Depression
Stress
Generalized anxiety
Specific phobias
Obsessive-Compulsive Disorder
Emotional dysregulation
Bipolar Disorder
Anger problems
Trauma and Post-traumatic Stress Disorder (PTSD)
Chronic interpersonal problems
Body-repetitive focused behaviors
Hoarding
Group Therapy Offerings
We offer groups with an emphasis on teaching new coping skills every week. Groups are currently forming; please call for information about initial intake and enrollment. Here is a brief description of each of our current groups: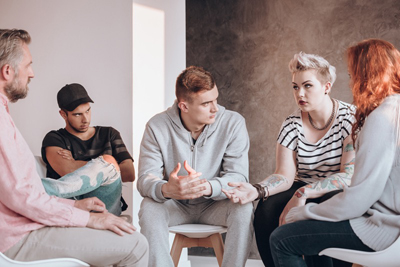 Mindfulness-Based Stress Reduction (MBSR)
This 8-week program integrates mindfulness meditation, body awareness, and gentle movement practices to assist people with a variety of life conditions. Come learn ways to increase joy and gratitude, take better care of yourself, create more balance in your life, cope with stress, worry, and illness, promote health, reduce anxiety and depression, and improve attention.
Dialectical Behavior Therapy (DBT) Group
DBT is a cognitive behavioral treatment that has shown to be effective in treating a wide range of disorders such as substance use, depression, post-traumatic stress disorder (PTSD), and eating disorders. It consists of four modules of behavioral skills: Mindfulness, Distress Tolerance, Emotion Regulation, and Interpersonal Effectiveness. The 10-week module is run like a class where the group leaders teach and assign homework to help you practice using the skills in your everyday life.
Emotion Efficacy Therapy (EET)
In Emotion Efficacy Therapy (EET), you will learn skills to become more effective in how you respond to your emotions, learning to experience difficult emotions rather than being overwhelmed or controlled by them. EET also helps you identify your core values and learn to act on them in the "moment of choice," rather than acting on what your emotions tell you to do. And, EET will help you learn strategies to dial down your emotions, even when they are very intense. All these skills will empower you to experience and respond to emotions in a way that will help you create a better life.
Who is Eligible?
Our clinic serves adults and adolescents of all ethnic and socioeconomic backgrounds.
Fees
The Berkeley Cognitive Behavioral Therapy Clinic offers services on a sliding scale. Fees are based on income and family size and range from $20 - $70 per session.* The group rate is $12 per session. The initial intake session for all new and returning clients is a non-refundable flat fee of $30. The BCBTC does not currently accept Medi-Cal insurance.
* Lower fees are considered and can be negotiated on a case-by-case basis.
Contact Us
Please call and leave a voicemail at (510) 923-2241 and provide us with times you are free for a return call. Our intake coordinator will call you to answer any questions you may have and schedule your intake. Please note, we do not offer walk-in appointments.