Past, Present, and Future Counseling Psychology Students Mingle at Alumni Forum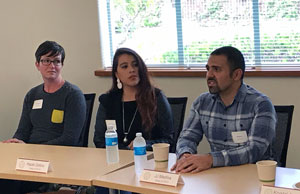 On Tuesday, July 7, seven distinguished alumni returned to the Wright Institute Counseling Psychology Program campus for the Summer 2019 Alumni Forum. Jason Shepherd (Class of 2009), Caiti Crum (2010), Ian Vianu (2014), Beth Greivel (2015), Hazel Zetino (2016), JJ Medina (2017), and Krystal Jacobs (2017) served as panelists, while Field Placement Director Stuart Lee moderated the discussion.
Each of the seven alumni imparted valuable advice for the dozens of current and incoming students in attendance. The graduates discussed the licensure process, their time at practicum, the intricacies of the counseling profession, some of their professional experiences since graduating, and issues of identity in therapy.