Wright Institute Faculty and Students Active in APA's Minority Fellowship Program
See Professor Thakore-Dunlap's professional biography here.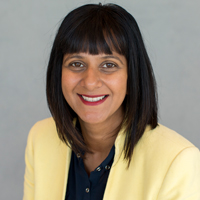 Ulash Thakore-Dunlap, MFT, Full-time Faculty member in the Counseling Psychology program, has been selected to serve on the Training Advisory Committee for the American Psychological Association Minority Fellowship Program (MFP) with a focus on Services for Transition Age Youth.
"It's an honor to be selected to serve on this committee, which is well-established and highly regarded within the APA and counseling psychology community," Ulash says. The Training Advisory Committee meets twice a year and works with MFP staff to read and evaluate applications of hundreds of candidates from various graduate programs.