The ACT Workbook for Teens with OCD: Unhook Yourself and Live Life to the Full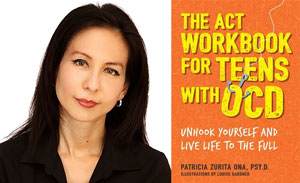 Wright Institute Clinical Psychology Adjunct Faculty member Patricia Zurita Ona, PsyD, is releasing a new workbook based on Acceptance and Commitment Therapy (ACT) and Exposure Response Prevention (ERP). The ACT Workbook, to be released in December, teaches teens with Obsessive-Compulsive Disorder (OCD) "new skills to handle the stream of pesky obsessions" that show up in their mind.
Zurita Ona dedicates this workbook to all the teens she's worked with. They are "the best consultants I have ever had," says Zurita Ona. "With this workbook, I hope to make ACT and ERP less mysterious and more accessible."
Zurita Ona continues:
There are countless teens that wake up every day struggling with disturbing thoughts. Despite all the research we have on ERP, many teens still end up not receiving proper care.