Faculty Spotlight: Nnamdi Pole, PhD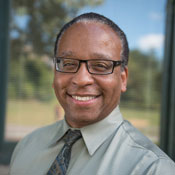 Nnamdi Pole, PhD, is a visiting scholar with the Wright Institute Counseling Psychology Program, on sabbatical from Smith College in Northampton, Massachusetts. He sat down to discuss his history with the Wright Institute, his teaching experience, and how the higher education field is doing at promoting diversity.
Dalton Green (DG): You've been affiliated with the Wright Institute for about two decades. How did you first become a part of the Wright Institute community?