Transformation Through Creative Ritual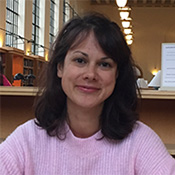 For the last five years, Clinical Psychology Doctoral Program student Chandra Merry has worked on a project, the Participatory Arts Ritual, which she first developed within the field of community theater. "Community theater is like drama therapy, but focused on empowerment of participants through the use of participatory theater games. It was developed with a theoretical basis in liberation theory, or the ideas of Paulo Freire," Chandra explains. Most recently, Chandra has been studying the applicability of her project to clinical group treatment.
Through three-hour workshops, Chandra guides a process in which participants create and facilitate a three-stage creative ritual based on a spontaneously chosen theme. Chandra explains that while she has a replicable protocol for her workshops, each is unique.