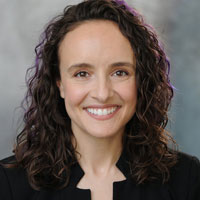 Mary Clarke, PhD
Full-Time Faculty
mclarke@wi.edu
Pronouns: she/her
BA Psychology - University of Illinois at Chicago, 1999
MA Community Counseling - Loyola University Chicago, 2001
PhD Counseling Psychology with Multicultural emphasis - Loyola University Chicago, 2007
Dr. Clarke is a Licensed Clinical Psychologist who specializes in complex trauma recovery, PTSD, LGBTQ and GNC/non-binary concerns, eating concerns, and relationships. Additionally, she has long-term therapy experience with personality concerns and dissociative identity disorder. In over 12 years as a clinician, she has provided crisis assessment and treatment in a variety of settings, including at a psychiatric hospital, in several university counseling centers, at a women's group practice, and at an LGBTQ-centered practice.
Using a feminist and relational-cultural frame, Dr. Clarke works collaboratively with her clients and integrates strengths-based modalities such as relational psychodynamic, gestalt, and narrative approaches. She currently sees clients in her private practice in Oakland. She also provides individual and small group consultation.
Among Dr. Clarke's professional interests are compassion fatigue, vicarious trauma, and compassion satisfaction. She is passionate about supporting clinicians in their careers and helping them develop tools for sustainability. Agencies in Illinois, Hawaii, and Canada have hosted Dr. Clarke's presentations on this topic. Her other professional interests include trans mental health; kink, lifestyle, and queer awareness in mental health; and the ethical development of counselors.
Outside of work, Dr. Clarke enjoys hiking, kayaking, traveling, trying new restaurants in the Bay Area, and daydreaming about food in Chicago, her hometown. She unwinds by exercising, learning about nutrition, and watching any kind of cooking show.
Professional Memberships
American Psychological Association (APA)
     Division 17, Counseling Psychology, Community Engagement Committee
     Division 35, Psychology of Women
International Society of Traumatic Stress Studies (ISTSS)
Northern California Group Psychotherapy Association (NCGPA)
Teaching
Counseling Theories and Techniques
Crisis, Disaster, and Trauma Counseling
Group Counseling
Law and Professional Ethics