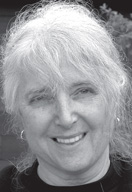 Lynn O'Connor, PhD
Professor Emeritus
loconnor@wi.edu
Emotion Personality and Altruism Research Group - www.eparg.org
BA Sociology, San Francisco State University, 1969
PhD Clinical Psychology, The Wright Institute, 1991
Dr. O'Connor is an educator, researcher, clinician, consultant and Director of the Emotion, Personality and Altruism Research Group (EPARG) at The Wright Institute. As a clinician and clinical supervisor, Dr. O'Connor practices from a biopsychosocial perspective, using the integrative Control Mastery Theory for the psychological component of treatment. Her training included emergency psychiatry, as well as brief and long-term psychotherapy at Mount Zion, Department of Psychiatry. Dr. O'Connor co-facilitated a weekly Psychotherapy Research Seminar with Joseph Weiss from 1992 to 2000.
Dr. O'Connor served as a consultant and evaluator for Walden House, and a Research Associate at the Haight-Ashbury Detoxification and Aftercare Project. Since 1996, she has worked as an evaluator in other settings, including serving as Director of Evaluation at The Wright Institute from 1998 - 2004. She served as a Founder, and as Clinical and Research Director of a Pre- and Postdoctoral Internship Training Program and Clinic at the San Francisco Psychotherapy Research Group from 2001 to 2004. She currently serves as an adjunct reviewer of manuscripts submitted to journals such as: Psychological Bulletin, Emotion, and others. She has also served as an adjunct reviewer of proposals for the National Science Foundation (NSF).
Dr. O'Connor's research focuses on empathy, empathy-based guilt (for example survivor guilt), altruism and positive motivation, from a cross-cultural and evolutionary perspective. In addition she studies psychopathology and personality or temperament as related to neurotransmitters. For the last six years Dr. O'Connor has also been studying Tibetan Buddhism. In addition, she has been conducting empirical studies of multiple contemplative practices, including mindfulness, Tibetan and Theravada Buddhist, Centering Prayer and yoga in relationship to empathy, empathy-based guilt, emotion regulation, depression and altruism, in an effort to understand how religious philosophy and/or practice contribute to lower rates of empathy-based guilt and depression and higher levels of emotion regulation, and altruistic behavior. O'Connor works closely with Jack Berry, Co-Director of EPARG and social and clinical psychologist and statistician and psychometric expert from Samford University, Birmingham Alabama. EPARG includes professionals from other disciplines such as psychiatry and evolutionary biology as well as Wright Institute students and is funded by a private foundation.
Students working with Dr. O'Connor have been conducting their dissertation research online. In the past year three of her students presented their work at the Western Psychological Association meetings, the Association for Psychological Science and the American Psychological Association. Many are available for downloading on the EPARG web site (URL: http;//www.eparg.org).
In 2001, Dr. O'Connor received the Raymond D. Fowler Award from the American Psychological Association of Graduate Students (APAGS) for her outstanding contributions to graduate students' professional development. In 2006, Dr. O'Connor's contributions to contemporary feminism were recognized in a biographical entry in Feminists Who Changed America, 1963 - 1975, Barbara J. Love, editor.
In 2012 Dr. O'Connor was listed as one of the top 50 most influential psychologists on twitter: Her twitter address is @lynnoc. Dr. O'Connor has a blog on Psychology Today, "Our Empathic Nature: The Altruistic Side of Evolutionary Psychology" http://www.psychologytoday.com/blog/our-empathic-nature where she comments on current events in psychological science relevant to clinical psychology.