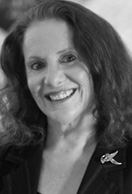 Mary Lamia, Ph.D.
Half-Time Institute Faculty
mlamia@wi.edu
B.A. Psychology, University of California, Berkeley, 1971
M.A. Educational Psychology, San Francisco State University, 1973
Ph.D. Clinical Psychology, California School of Professional Psychology, 1977
Extending psychological knowledge to the public has been Dr. Lamia's endeavor for over 35 years. She has provided commentary for numerous television, radio, and print media interviews and discussions, and for nearly a decade she hosted a weekly call-in talk show, KidTalk with Dr. Mary, on Radio Disney stations.
Dr. Lamia's passion for promoting emotional awareness and social-emotional competency in young people, led to authoring a book for pre-teens, Understanding Myself: A Kid's Guide to Intense Emotions and Strong Feelings, and a book for young adults, Emotions! Making Sense of Your Feelings. She is also the co-author of a book for adults, The White Knight Syndrome: Rescuing Yourself From Your Need to Rescue Others, and blogs for Psychology Today and How Do I Date websites. Dr. Lamia's books in progress reflect her current interest in issues regarding procrastination, shame, affect theory, and common factors in psychotherapy.
As a clinical psychologist and psychoanalyst, Dr. Lamia maintains a private practice working with adults, adolescents, and preteens, in addition to her role as a professor at the Wright Institute. Prior to her psychoanalytic training at the San Francisco Center for Psychoanalysis, her pre- and postdoctoral training in child and adult psychoanalytic psychotherapy was at Children's Hospital of San Francisco.