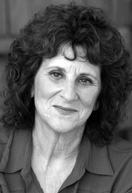 Anne C. Bernstein, PhD
Part-Time Institute Faculty
anneberns@wi.edu
BA Sociology, Brandeis University, 1965
PhD Clinical Psychology, University of California, Berkeley, 1973
Dr. Bernstein is a family psychologist who has been practicing in Berkeley for more than 40 years. A family systems oriented clinician, she sees families and couples for both brief and extended therapy. She also works as a mediator, principally on family issues. Her private practice currently focuses on work with nontraditional families, especially stepfamilies, and including gay and lesbian couples and families as well as families formed through adoption and collaborative reproduction.
Dr. Bernstein joined the faculty at the Wright Institute in 1981. She was formerly the program director of an on-site, in-service master's program for child welfare workers at the San Francisco Department of Social Services, conducted in conjunction with Lone Mountain College and the University of San Francisco. She has also taught at California State University, Hayward; University of California, San Francisco and Santa Cruz; and the California School of Professional Psychology. Dr. Bernstein is the author of Yours, Mine, and Ours: How Families Change When Remarried Parents Have a Child Together, (W. W. Norton, 1990). A revised edition of an earlier work, Flight of the Stork: How Children Think (and When) about Sex and Family Building (Perspectives Press, 1994) includes extensive new material on talking with children about adoption, stepfamily relationships, and families formed through collaborative reproduction.
Dr. Bernstein is former vice president and treasurer of the American Family Therapy Academy. From 2004-2012 she was the associate editor for the Website of Family Process. She is an Advanced Practitioner Member in the Family Section of the Association for Conflict Resolution and on the Expert Council of the National Stepfamily Resource Network.