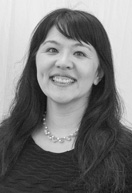 Emily Diamond, Psy.D.
Full-Time Institute Faculty
ediamond@wi.edu
B.A. East Asian Studies, University of Oregon, 1989
Waseda University, Tokyo, International Studies Department, 1987 – 88
Psy.D Clinical Psychology, The Wright Institute, 2004
Dr. Diamond has a long interest in cross-cultural psychology and is the co-translator of the book: Japan and America: One Woman's View (1991).
Her current international interests include the phenomenon of bullying and the epidemiology of suicide. Both of these phenomena, like many other health issues which interest her, differ by region and country for a variety of reasons, including such things as the wealth and stability of nations, levels of inequity, group and social psychology and individual biology. She finds that this view allows her to more fully understand the many factors that influence one's ability to thrive.
Dr. Diamond has also done forensic research and neuropsychological testing of workers exposed to neurotoxins. This work has taken her to different states on behalf of workers who have fallen ill on the job. The effects of neurotoxins and their relationship to such things as movement disorders, mood, cognition and general health status are one part of Dr. Diamond's strong interest in health justice in medical psychology—the interplay of medical illness and psychology.