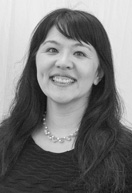 Emily Diamond, PsyD
Full-Time Institute Faculty
ediamond@wi.edu
BA East Asian Studies, University of Oregon, 1989
Waseda University, Tokyo, International Studies Department, 1987 – 88
Psy.D Clinical Psychology, The Wright Institute, 2004
Dr. Diamond has a long interest in cross-cultural psychology and is the co-translator of the book, Japan and America: One Woman's View (1991). She is the Principle Investigator of three international research projects. One utilizes geospatial mapping to better understand the environmental causes of differing prevalence rates of autism by region. The other project looks at mother's prenatal exposure to one of the commonly used pesticides, neonicotinoids. These phenomena, like many other health issues which interest her, differ by region and country for a variety of reasons, including such things as the wealth and stability of nations, levels of inequity, group and social psychology, and individual biology. She finds that this view allows her to more fully understand the many factors that influence one's ability to thrive. She enjoys teaching students about mapping to better understand health and health inequality. Dr. Diamond has done training with law enforcement on neurodevelopmental disability, focusing on autism and policing.
Responding to climate change, Dr. Diamond is in the early stages of a new project she'll be working on with students, involving interviewing survivors of natural disasters. She's creating a repository of interviews of survivors so that more can be learned about resiliency and trajectories of recovery. This repository will also be available to survivors so they can hear each other's stories, and it's hoped that it will help clinicians to understand the biopsychosocial and legal needs of survivors. Together with a student, she's publishing a paper this Fall on mothers' and their experiences of going through one of the worst toxic water spills in recent U.S. history. Since most fatalities due to natural disasters are to the poor, older adults, or those with disabilities, she's written a disaster preparedness manual with a focus on the West Coast so that healthcare providers and clients can work together and plan for safety. She is a Fellow of The Royal Society for Public Health.
Dr. Diamond has also done forensic research and neuropsychological testing of workers exposed to neurotoxins. This work has taken her to different states on behalf of workers who have fallen ill on the job. The effects of neurotoxins and their relationship to such things as movement disorders, mood, cognition and general health status are one part of Dr. Diamond's strong interest in health justice in medical psychology — the interplay of medical illness and psychology.
Dr. Diamond was awarded an APA Blue Ribbon Award in 2007 for group paper on Neuropsychological and Neurological Function in Confined-Space Bridge Welders. That same year she was nominated for Center for Disease Control Prize in Assessment and Epidemiology. And in 2012, Dr. Diamond was considered for the St. Andrews Prize for the Environment, for an invention that would help people in Bangladesh, 70 million of whom have high arsenic in their drinking water.