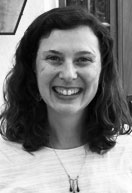 Becky Pizer, Psy.D.
Full-Time Institute Faculty
bpizer@wi.edu
B.A. Women's Studies, Yale University, 1991
Psy.D. Clinical Psychology, California School of Professional Psychology, 1999
Dr. Pizer's background is primarily in community mental health with a focus on supporting underserved families. After working with young people and their families in school, inpatient, residential, and various outpatient settings, she served as the Training Director at Alameda Family Services from 2000 – 2007. She expanded the narrative training program to include services for new parents, the Head Start program, substance abuse treatment for young people and adults, a youth shelter, and public schools throughout Alameda in addition to the families, couples, and individuals who were originally receiving clinical services through the training program. Her clinical work at Alameda Family Services included providing therapy for formerly homeless families and individuals at the Alameda Point Collaborative, working with high school students at the School-Based Health Center, conducting substance abuse treatment groups with youth on probation, and intervening in family crises referred by the police.
In addition to supervising trainees for the past several years, Dr. Pizer has presented trainings at Alameda Family Services and other Bay Area training sites, such as Culture and Communication, Power and Privilege, Secondary Trauma and Self-Care, Substance Abuse and the Family, Social Justice Therapy, and Crisis Intervention. Her dissertation qualitatively explored teenage girls' experiences of substance abuse and recovery.
Dr. Pizer is the Director of Field Placement at the Wright Institute. She continues as a narrative consultant at Alameda Family Services a well as providing clinical and supervisory services at Options Recovery Services.