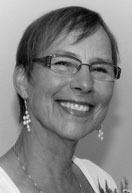 Katie McGovern, PhD
Full-Time Institute Faculty
kmcgovern@wi.edu
BA Biology, Carleton College, 1969
BA Psychology, Carleton College, 1973
MA Clinical Psychology, University of Wisconsin-Milwaukee, 1975
PhD Cognitive Experimental Psychology, University of Minnesota, 1981
Dr. McGovern received her doctorate at the University of Minnesota where she trained as a pre-doctoral associate of the interdisciplinary Center for Research in Human Learning. Her specialization was cognition and language, including research on language development and speech perception in children and adults.
Dr. McGovern has taught courses on cognition and emotion in Bay area clinical psychology programs including the Wright Institute, California School of Professional Psychology, California Institute of Integral Psychology (CIIS), John F. Kennedy University, and Saybrook Graduate School. She joined the Wright Institute faculty in 1992 as adjunct instructor and dissertation supervisor; she became full-time Institute faculty in the fall of 2016. Dr. McGovern was core faculty in the clinical psychology doctoral program at CIIS from 2001 through 2012 and program director 2006-2011.
Her research interests include the theoretical and empirical understanding of consciousness and its function in the psychological architecture, empathy and intersubjectivity, mindfulness and gratitude, and spirituality as understood in the Christian Contemplative tradition. Dr. McGovern enjoys supervising doctoral dissertations and continuing to learn new research designs and methods including online technologies. She is a trained spiritual director and has led women's retreats, contemplative retreats, and quiet days since 1985.