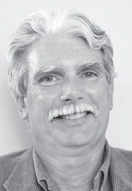 Matthew McKay, PhD
Half-Time Institute Faculty
mmckay@wi.edu
BA Political Science, University of San Francisco, 1969
MA Psychology, San Jose State University, 1973
PhD Clinical Psychology, California School of Professional Psychology, 1978
Dr. McKay cofounded the Haight Ashbury Psychological Services agency in 1979 and served as its Clinical Director for 25 years. This independent, low-fee clinic serves approximately 150 adult patients per week and trains 16 graduate students each year. Dr. McKay's current activities at the agency include the training and supervision of practicum students. Dr. McKay has an active private practice in Berkeley where he sees clients with diverse clinical issues including anxiety, phobias, depression, and abuse.
Dr. McKay is the coauthor of more than 25 psychology self help and therapist texts. Over the years, Dr. McKay has taught a wide range of classes at the graduate level ranging from cognitive and psycho-dynamic psychotherapy, to systems and brief therapy courses.
He has taught courses at several Bay Area graduate schools, including the California Institute of Integral Studies, Western School of Professional Psychology, the Professional School of Psychology, and the Wright Institute. Dr. McKay's interests extend to writing poetry, fiction, and music, and he has a published novel and two books of poetry.